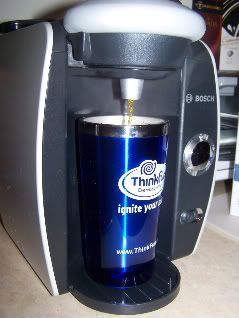 I have been given a wonderful opportunity to review the Tassimo. What is a Tassimo? It's a coffee lovers dream. Allow me to elaborate further so be sure to pay attention:
Tassimo is not just your run of the mill coffee maker. In fact, it's not just a coffee maker. The Tassimo also makes espresso's, tea, latte's, cappuccino's, hot chocolate's, etc. I would go as far to dub it as the "Hot drink maker for everyone in the family".
The best part? You don't have to measure a thing, there are no filters and there is no mess. It's so easy to use.
Welcome to the Tassimo! On the left you will see a picture of the machine set-up to make me a cappuccino. I'm using a travel coffee mug as what I made was a larger drink. You can use an accessory (that comes with the Tassimo) that will allow you to make smaller cups; it's so easy to pick the size drink that you want. You simply adjust the stand to where you can make your hot drink without making a mess.
You'll note that there is a small cup (called a T-Disc; sold seperately) above the spout (where the coffee comes from). The T-Discs come in several options (coffee, cappuccino milk, latte creamer, tea, hot chocolate, etc.); you can see a full section by clicking here.
I selected the Caffe Verona from Starbucks to make my cappuccino as seen above.
You simply take the T-Disc and place it upside-down into the holder with the tab sticking out as shown above and close the lid. Then the Tassimo actually reads the bar code on the T-Disc so it can automatically adjust to making you the perfect drink; in 60 seconds or less. Better than your coffee maker at home; isn't it? I can contest to the fact that it is better than mine!
Even better? Yes, it does get better! The Tassimo even has it's own special filters to purify the water (from your tap) that brews your coffee making it that much more delicious. Again…better than my previous coffee maker.
Imagine those trying to rush out of the house on a Monday morning and realizing you just can't function without a steamy fresh cup of coffee, but you know it will take a few minutes to set-up your coffee pot, and then you have to wait for it to brew. Who has time for that? And who needs an entire pot of coffee? It's a bunch of waste - of coffee and money! Now you realize that you will have to stop at the local convenience store, pour yourself a cup of coffee (that is never made the way we like it nor do we have any idea on just how 'fresh' it really is!) and drive off to work, school, etc. Tassimo is the solution; here's why…
It makes one cup of coffee (or tea, or hot chocolate, or cappuccino, or a latte, or… you get the idea) in 60 seconds or less! I couldn't believe how fast it began to work. Let me show you:
Within a few seconds the steam came out and the coffee brewing began - seconds! Then it began to brew the coffee fast. I was amazed and honestly wondered how it was going to taste with it working so quickly. Truth be told, I really second guessed myself as to whether or not I had set it up correctly or not. Considering it was such an easy set-up I didn't know how that was possible.
Fortunately, I didn't set it up wrong and it really was just that fast. I then added another T-Disc of the Cappuccino Milk Creamer and made myself a really nice, frothy, cappuccino.
You can see where it pierced the T-Disc's and all I had to do was toss them in the trash. No messy clean-up! In fact, it took me 3 seconds to wipe off the spout, 2 seconds to dump the remaining water out of the tank and 3 seconds to dry it out.
I couldn't do this with my old coffee maker if I wanted to and believe me… I've wanted to.
The Tassimo, in my humble opinion, is truly an innovative and wonderful product to have for any person who enjoys a hot drink; especially during these cold winter months.
Now, to keep within the honesty policy I have with the readers of Unconditional Mom, I do want to mention the one con that I have discovered with this particular product… the T-Disc's are only available on-line at this time; you can not buy them in stores.
However, with that being said, they are inexpensive and if you're organized and order ahead of time you will be highly pleased with your purchase.
This Tassimo retails for $169.00. They do come in some color options for those who are into having everything match much like myself.
Unconditional Mom highly recommends the Tassimo. With as fast paced and complicated life can be now a days, the one thing you truly deserve is a really nice cup of coffee, espresso, tea, hot chocolate…
DISCLAIMER:

To keep within the FTC regulations it is my duty to disclose that I received one Tassimo and four (4) packages of T-Discs (as pictured above) in order to complete this review. However, it does not reflect upon my opinion nor honesty in regard to what I have posted here for the readers of Unconditional Mom.